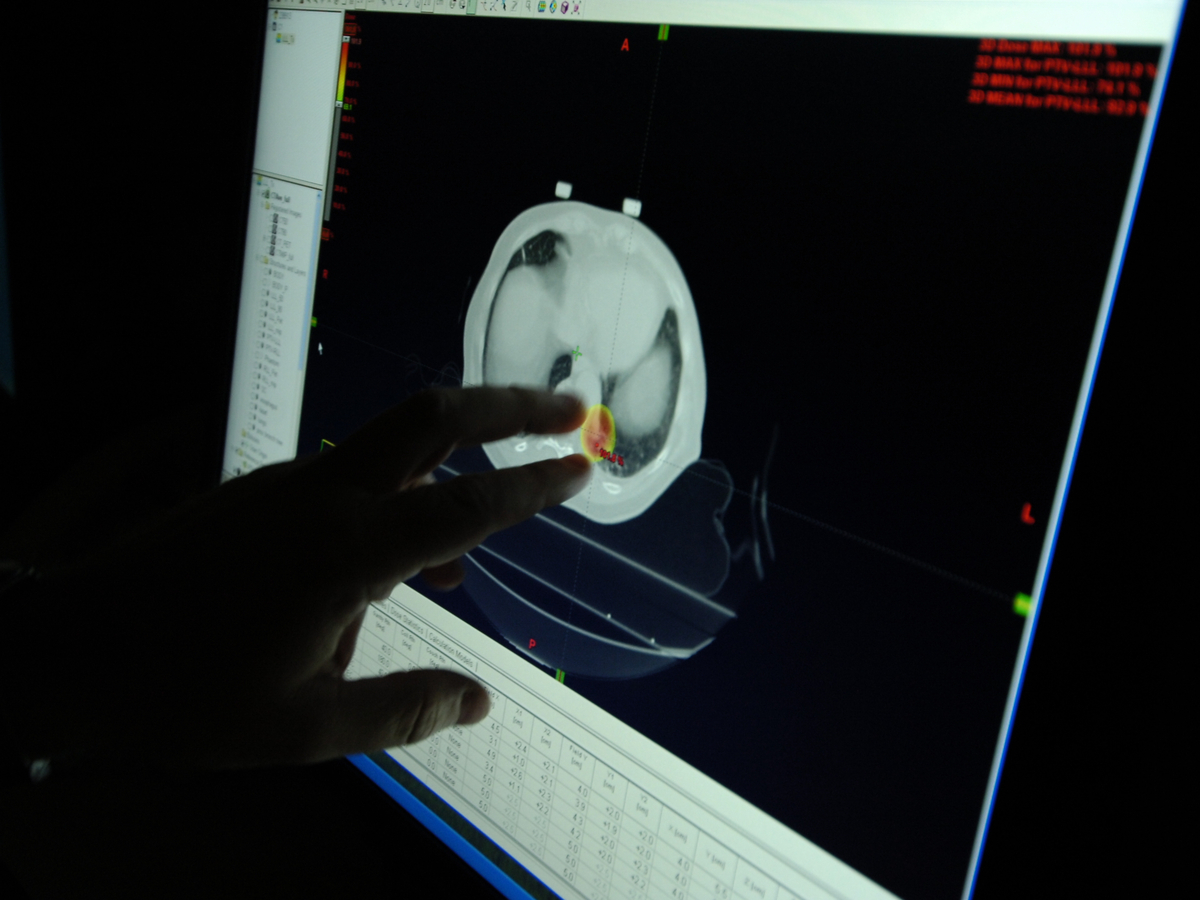 Ryan McFadden/MediaNews Group via Getty Images
Survival rates for lung cancer are improving, especially in historically marginalized communities, according to A new study From the American Lung Association, published Tuesday.
The findings are a bright note amid deepening racial disparities in many areas of health care.
Five-year lung cancer survival rates increased by 22% in the five years from 2015 to 2019. It currently stands at 26.6% across all racial and ethnic groups. Among people of color, the survival rate increased by 17% Two years (2017-2019), now stands at 23.7%.
The survey results are "unexpected," says Zach Jump, director of epidemiology and statistics at the American Lung Association, adding that the speed at which racial disparities are closing is remarkable.
"We are encouraged by the work being done to eliminate lung cancer stigma, increase lung cancer screening and improve lung cancer care," American Lung Association President and CEO Harold Wimmer said in a statement.
Lung cancer is still cancer Kills most Americans, with 127,000 deaths last year. People of color are diagnosed at later stages than their white counterparts and are less likely to have access to treatments such as surgery, which has historically reduced their chances of survival.
Survival improvements are not equal across species and some differences still exist. The white survival rate is 25%, but the survival rate is 21% for Black Americans, 22% for indigenous peoples, and 23% for Hispanics. These rates are an improvement over data two years earlier, when survival rates were 18% for black Americans and 19% for indigenous peoples and Hispanics.
Asian Americans survive lung cancer at a higher rate than whites, and their survival rate has risen from 23.4% to 29% in two years.
Jump says these improvements can be sustained and replicated across other racial disparities in health care. "Honestly, that's our next question: trying to figure out what the driving factor is behind that."
The report also notes some stark geographic disparities in lung cancer survival rates. The survival rate for patients in Rhode Island was 33%, compared to 21% in Oklahoma.
The overall lung cancer five-year survival rate is remarkable Less than many other cancers. For example, breast cancer has a 91% five-year survival rate, and colon cancer has a 65% survival rate.
Survival rates for lung cancer are higher if people at high risk get annual low-dose CT scans, a better way to catch the disease early, Jump says. If caught at an early stage, the five-year survival rate for lung cancer is as high as 63%.
But only 4.5% of eligible people were screened for lung cancer last year – far less than breast or colon cancers.
In fact, according to the report, a quarter of lung cancers are diagnosed at an early stage, and 44% of cases are not caught until late, with a survival rate of only 8%.
Lung cancer isn't necessarily the same grim diagnosis it once was, Jump says, adding that recent new treatments are more effective, especially when used in the early stages. "All of a sudden you start getting these targeted immunotherapies, and that's a paradigm shift," he says.
Jump says he hopes screening rates will improve, increasing survival rates.
It is rare to see such dramatic improvements and short-term survival rates in cancer treatment, especially in ways that benefit underserved communities.
"For the most part, cancer treatment in general and lung cancer in particular moves at a slow pace," Jump says. "So to be able to see significant progress in two years is very exciting and certainly a cause for optimism."