A Montgomery County woman has been missing for more than two weeks. He was found dead on Wednesday, officials said.
SkyForce10 was over the scene Wednesday afternoon as police searched through a wooded area behind a warehouse in the 200 block of North 5th Street in Royersford. NBC10 sources told NBC10 that the search was conducted in connection with the disappearance of 43-year-old Jennifer Brown.
During an afternoon press conference, officials revealed that Brown was found dead and partially buried in a shallow grave in Royersford. Authorities have not made any arrests or released a cause of death. They are still investigating.
Brown, of Limerick Township, Pennsylvania, was last seen alive by his friend and business partner Antonio "Blair" Watts-Richardson on Tuesday, January 3 at 2 p.m.
Watts-Richardson told NBC10 on Jan. 3 said she was with Brown and took her 8-year-old son to his house for a sleepover that night.
"I put Noah on the bus the next day," Watts-Richardson said.
Watts-Richardson told NBC10 Brown never called to speak to her or her son that night.
Brown was scheduled to pick up her son from the bus stop the next afternoon on Jan. 4, but did not show up.
"She's a doting, I call her a helicopter mom. She loves her son. She won't leave her son," Brown's best friend, Tiffany Baron, told NBC10.
Police are searching for a Montgomery County mother who has been missing for days. NBC10's Aaron Baskerville has the latest on the investigation.
Watts-Richardson said she didn't know what happened to Brown from Jan. 3 to the morning of Jan. 4.
"I had nothing to do with anything," Watts-Richardson said. "Because I was the last person to see her, it doesn't mean anything."
Watts-Richardson told NBC10 that she and Brown were planning to open a new restaurant together.
"I look like I've been stabbed," Watts-Richardson said. "It's frustrating because I was the first person to call the police, trying to kick in the windows. Trying to find my friend. Trying to make sure her son was covered.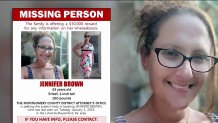 Brown's vehicle was parked outside his home on Stratford Court, not far from where his body was eventually found. Her car keys, wallet, purse and working cell phone were recovered from the vehicle. Since the morning of Jan. 4, his personal cell phone has not been found and has not been contacted.
Police, sanitation workers and a search dog were seen searching a landfill in hopes of finding new information about the whereabouts of Jennifer Brown, a Montgomery County mother who went missing on Jan. 4. NBC10's Deanna Durante has the latest on the investigation
Brown's family initially offered a $10,000 reward for anyone who could help find her. Last week, Montgomery County District Attorney Kevin Steele announced a reward of up to $15,000.